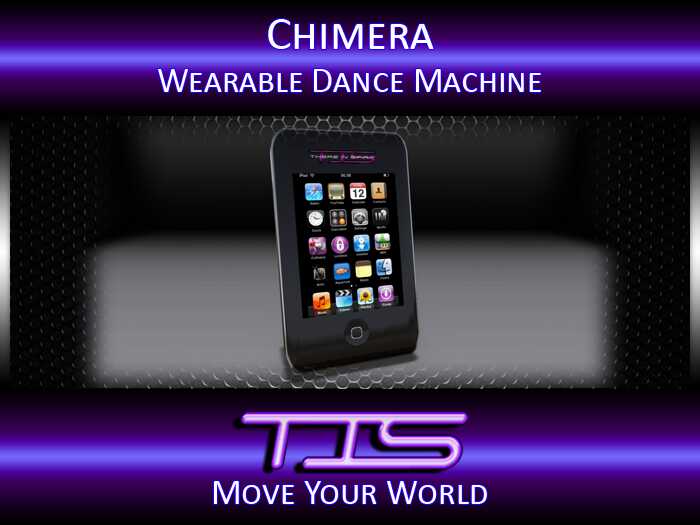 Thank you for your interest in the TIS .
A basic personal dance HUD for use with single animations only.
Features
Supports up to 40 Dancers.
Add an Unlimited number of your own dances.
25 Dances included.
Great design looking like a mobile phone attached to your hip!
Wear like a personal Stereo, clickable area covers your entire mid-drift!
Menu driven settings.
66 Selectable colours and a transparent mode.
Scan for your friends within chat range and ask them to dance without the need for them to have to click (clicking also works like normal Chimera's.
Synchronised or Unsynchronised dancing modes which will cycle through all available dances, or menu driven selection of individual dances.
Stop one person or stop all dancers via menu.
Off Mode.
Current version of the is v.
Release date of the current version is . To check what version you are running please see the Version section. Please also see the Troubleshooting tab if you are having any other issues to see if your query is answered there before contacting support.
Your comes in a product box. Drag this box to the ground where it will automatically unpack and give you a folder containing your product. Accept this folder and it will appear in the top level of your inventory. You can now delete the product box (a copy is still in your inventory).
In your inventory, locate the folder called "TIS ".
In this folder you will find the following items:
TIS

This is the unit. It is copyable so you can use as many as you require.

4 free animations

4 Free animations that are not loaded in the Chimera due to permissions.
Navigate to the folder given to you in your inventory and in there you will find the TIS Chimera, just right click it in your inventory and select wear, this will then attach it to your avatar.
The Chimera will appear on your right hand side just on your hip.
To access the menu just click the Chimera on your hip. A drop down will appear to switch on the Chimera. Once you switch it on the Main Menu will appear. Click here for information as to what each menu item refers to and how to use your Chimera.
The Chimera already has dances loaded into it. You will also find in the package 4 other dances which will require loading.
To add your own dances drag the Chimera to the floor and edit it. Drag the new dances into the contents tab. They will automatically appear in the menu. Note - You cannot add dances when wearing the Chimera.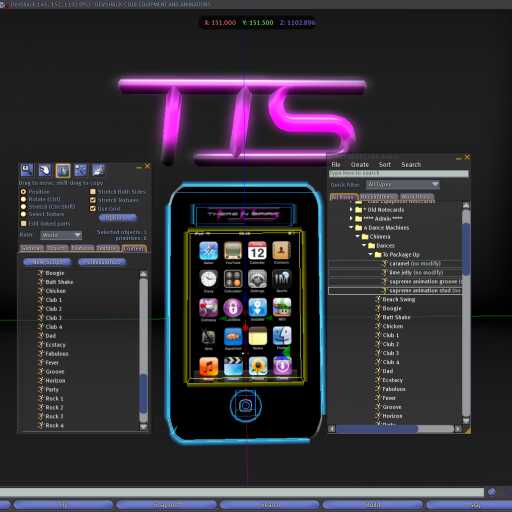 To remove dances from your Chimera, you just need to rez the Chimera on the ground in world, right click and edit it then from the Contents tab, drag out the dances into your inventory.
The Command channel is initially 77, but this can be amended by editing the chimera and changing the number in the description field, then reattaching it. Click the Chimera whilst wearing it for the menu, or type /77 menu.
The main menu provides the following functions:
Switch On/Off

Turns the machine on/off

Dance

Sets you off dancing

Stop ME

Stops you dancing

Stop ALL

Stops everyone using the machine from dancing

Sync'd

Cycles everyone dancing through all the dances in the machine - Everyone will dance the same dance at the same time. To start everyone off dancing a certain dance, you must press this button first then click the Dances button and select a dance to do.

UnSync'd

Everyone will dance random dances.

Dances

Allows you to select a particular dance from a menu of all dances in the machine.

AV's Near Me

Scans everyone in chat range and presents their names on a menu. Selecting their name will start them dancing (or stop them if they are already dancing).

Color

Allows you to change the colour of the machine to match your outfit (transparent option available).
Listed here are the most common FAQ's for this product. Before contacting support, make sure your query is not answered here.